Titan City
Taken from the official City of Titans website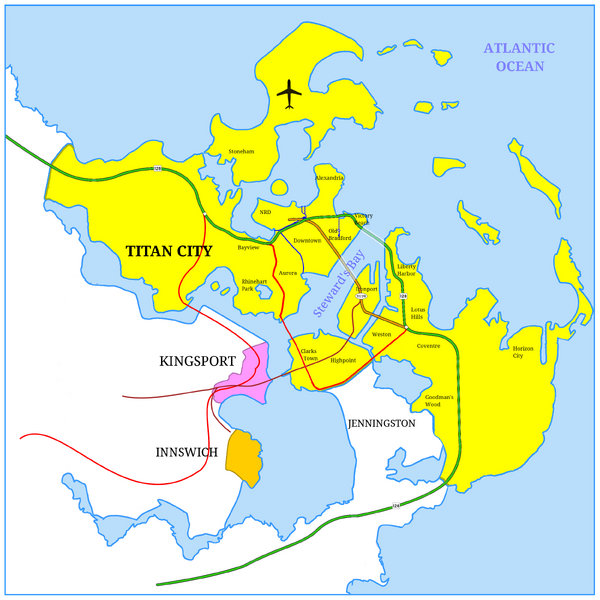 The vibrant, thriving metropolis of Titan City is home to costumed crooks and crimefighters of every imaginable description, and some you won't believe until you see them! From the shining, sun-washed spires of its skyscrapers to the depths of its desolate slums, this city forms the stage on which these larger-than-life characters play out their adventures. As you explore Titan City, you'll encounter beautiful vistas, from glorious Art Deco monuments to villain-dominated broken tenements to ultra-high-tech bio-domes to much more. Forged in the ashes of a devastating fire and tempered by decades of superpowered danger, Titan City enjoys a rich and engrossing history. It shines as a beacon of hope and opportunity to those who seek justice, a magnet for those who want to make themselves rich and famous - an irresistible lure to those who would do evil!
You never know who you might meet around the next corner in Titan City.
Titan City is set in modern times and is situated near Gloucester, Massachusetts.
What is referred to as the "northern peninsula of Titan City is, as described by the developers, "...the bright, shiny, optimistic city of the future..." and consists of the fellow neighborhoods/boroughs listed below.
Bayview: "One of the most affluent sections of Titan City."
Stoneham: "A mass of industrial parks, but unlike Ironport, it is open, high-tech, and comparatively green and welcoming."
The southern half of Titan City is the polar opposite to its northern half, being described as "The more edge-of-survival area of the city." by the developers.
Conventre: "Founded by an alchemist, Coventre has a rich heritage of magic beneath a veneer of almost Old World elegance. Magic permeates the whole place like a faint and heady perfume."
Goodman's Wood: "Dark and foreboding, is an overgrown, threatening forest on the outskirts of Titan City. Dark magic haunts this place. It is home to mysterious groves, odd, worn-looking ruins, and hints of Celtic-style magic."
Horizon City: "With a large contingent of ultra-modern style skyscrapers, Horizon City offers an alternative to the overcrowding that is present in Downtown. It is a high-tech "shadow of the future" of urban development."
Jennington: "A small, picturesque town lying just outside Titan City, but beneath this veneer, magic stirs. It includes a picturesque main street and square, a neighborhood of old, haunted-looking houses, and forested, undeveloped hills surrounding the town."